What an NCAAs, Katelyn Tuohy Goes Pro, CU Buffs Investigation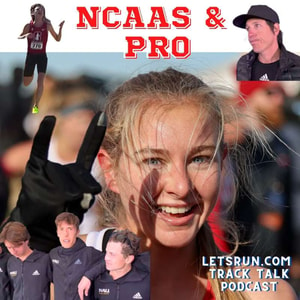 10 months ago
It's our biggest sale of the year. Use code GOAT50 to save 50% on a Supporters Club membership. https://www.letsrun.com/subscribe?from=public
We give another look back at the incredible 2022 NCAA Cross Country Championships where the men's battle was decided on the tie-breaker and the Katelyn Tuohy and Parker Valby match-up delivered.
Mike Smith has now coached NAU to 5 NCAA XC titles.
We debated Katelyn Tuohy turning pro and suggested she sign an NIL deal and then an hour after the pod she signed an NIL deal with adidas so we have an emergency segment on that at 57:21.
Mark Wetmore's Colorado Buffalo program is being investigated on how they handle diet and eating.
Show notes (SC members get detailed time stamps)
How great was NCAA cross?
Crazy tie break ideas
Mike Smith's comments on tiebreaker
Mike Smith audio/ thread of week: Mike Smith's Interview Honesty Blows Me Away
Mike Smith's legacy
A look ahead to 2023
Laurie Henes and NC State make it two in a row
Katelyn Tuohy and Parker Valby deliver
2019 audio predictions on Katelyn Tuohy's career
Should Katelyn Tuohy turn pro?/ Who has more potential Tuohy or Valby?
57:21 Emergency pod: Katelyn Tuohy turns pro and signs NIL deal with adidas will still run for NC State
Back to regular podcast and general discussion of NIL deals
Investigation on how Colorado and Mark Wetmore deal with nutrition / eating issues
Jakob and NCAA cross and final thoughts
DIII and DII Nationals
Contact us: Email podcast@letsrun.com or call/text 1-844-LETSRUN podcast voicemail/text line.
Want a 2nd podcast every week? And savings on running shoes? Join our Supporters Club today and get all the LetsRun.com content, a second podcast every week (the Friday 15 - which is usually much more than 15 minutes), savings on running shoes, and a lot more. Cancel at anytime. https://www.letsrun.com/subscribe
Check out the LetsRun.com store. https://shop.letsrun.com/ We've got the softest running shirts in the business.
Thanks for listening. Please rate us on itunes and spread the word with a friend. There is a reason we're the #1 podcast dedicated to Olympic level running.
Support LetsRun.com's Track Talk by contributing to their tip jar: https://tips.pinecast.com/jar/letsrun
Send us your feedback online: https://pinecast.com/feedback/letsrun/fc7fe87c-b476-49b2-9bc8-ab6876a0b068
This podcast is powered by Pinecast.