What a USAs, What's Up with Bowerman and Teare? Who Medals at Worlds and Who Never Makes another Worlds Team?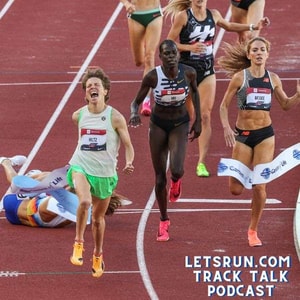 2 months ago
(It's Prime Day and Rojo has an amazing product for you under $25. Or you can just give LRC some love by clicking here before you shop at Amazon)
What a USA Track and Field Championships.
It turns out Athing Mu is a good 1500m runner, should Cooper Teare leave Bowerman, how bad was the meet for the BTC, and will some big name stars ever make a US Team again?
How many distance medals will the US get in Budapest?
Show notes:
00:00 2023 Flashback
02:15 Athing Mu gets 2nd in 1500, do we owe her Bobby Kersee an apology?
09:51 Intern Alex hangs out with Karsten Warholm
15:08 Very few Cinderellas in track
19:53 Mike Woods wins Tour De France stage
27:41 Woody Kincaid comments on Joe Klecker
29:38 Cooper Teare's post-race comments, should he leave Bowerman? *Thread
37:26 Post of Week
39:44 Mike Smith model better?
45:47 Should we be worried for Bowerman?
53:40 Good meet for Brooks Beasts, some personal tragedy for Danny Mackey
58:43 Over/Under for US distance medals at Worlds
01:02:12 After Mu and Yared who is most likely to medal?
01:05:41 Alex gives his impression of being at Stockholm Diamond League meet
01:10:47 Sprints at USAs- Sha'Carri, Gabby, and Sydney impress
01:18:59 Will Centro, Jager, Ajee, Brazier ever make a US team again? + Coburn and Ajee's streaks come to an end
01:26:01 Best Interviews of weekend Teare Updike and Keter
01:26:50 British champs
01:31:14 Silesia Poland DL on Sunday
Contact us: Email podcast@letsrun.com or call/text 1-844-LETSRUN podcast voicemail/text line.
Want a 2nd podcast every week? And savings on running shoes? Join our Supporters Club today and get all the LetsRun.com content, a second podcast every week, savings on running shoes, and a lot more. Cancel at anytime. Use code CLUB25 to save 25% for 1st year https://www.letsrun.com/subscribe
Check out the LetsRun.com store. https://shop.letsrun.com/ We've got the softest running shirts in the business.
Thanks for listening. Please rate us on itunes and spread the word with a friend. There is a reason we're the #1 podcast dedicated to Olympic level running.
Send us your feedback online: https://pinecast.com/feedback/letsrun/fdfe7e07-e594-4ec2-91a8-7b9b851c129b