Michael Norman Runs 9.86, USAs Cancelled, Japanese High Schooler Faster Than Rupp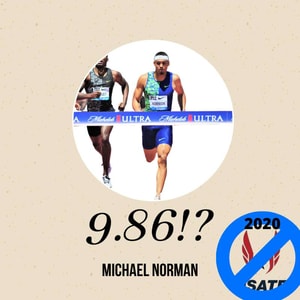 6 months ago
America's best competitive running podcast - guaranteed
Michael Norman ran 9.86 for 100m. Really?!?!
LRC American GOAT Jim Ryun is being honored by President Trump on LRC Founders Day, Karissa Schweizer keeps running fast. What should Shelby Houlihan run in the Olympics? Fast times by a Japanese high schooler. Will there be a US high school national champs. No USAs.
Show notes:
2:12 Americn GOAT Jim Ryun getting Presidential Medal of Freedom
5:48 Michael Norman 9.86 100m - Legit?!
16:17 Karissa Schweizer 4:00.02 1500m
23:05 Why no doubling at Olympics? Shelby Houlihan 10k
33:53 Big Friendly II- Brazier and Amos duck duck goose
37:10 17 year-old Japanese runner Kosuke Ishida runs faster than Rupp
42:06 Stars matchups, female problems
45:15 No USAs for 1st time since President Grant
50:48 Opportunity for high school national championship?
End- Covid talk, Sam Chelanga, running a white sport?
Support LetsRun.com's Track Talk by donating to their Tip Jar: https://tips.pinecast.com/jar/letsrun
Find out more at http://podcast.letsrun.com
Send us your feedback online: https://pinecast.com/feedback/letsrun/fe5b396a-4723-49d5-bb14-7e2d9c8351ce