Nuttycombe: Valby Over Tuohy, Blanks, Dreams, Olympic Marathon Trials + New Book on 1984 Olympic Marathon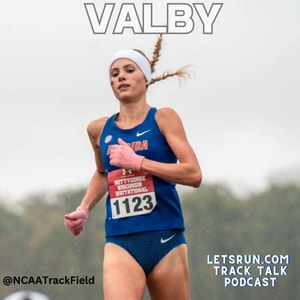 1 month ago
The NCAA cross country action heated up with NCAA phenoms Parker Valby and Katelyn Tuohy squaring off at the Wisconsin Nuttycombe Invite and Valby crushing Tuohy for the course record in poor conditions.
Some US marathon runners want the US Olympic Marathon Trials start time moved, the Japanese Olympic Trials (Grand Championships) were held, and Stephen Lane author of a book on the 1984 Olympic Marathon, Long Run to Glory: The Story of the Greatest Marathon in Olympic History and the Women Who Made It Happen and meet director for the Adrian Martinez Classic joins us at 74:48 to discuss the book.
Want a better running shoe? Go to BetterRunningShoes.com You won't be disappointed.
Show notes:
00:00 Start
04:50 Nuttycombe Parker Valby takes down Katelyn Tuohy
11:14 Parker Valby was amazing
18:41 Graham Blanks impresses on men's side
25:17 Stanford men bomb, why is it so hard for Newbury Park guys not named Nico Young to adjust to college?
30:32 Oregon men not racing
38:33 Galen Rupp dream audio
39:42 Jared Ward, Sara Hall meet with Max Siegel to try and move start time of Olympic Marathon Trials
44:55 Marathon Grand Championships held- How many Americans would have even qualified?
46:37 Japan Trials men -Yuki Kawauchi brave run for 4th
55:54 Women's race
58:10 What do we think of Japanese Trials system with top 2 spots protected?
01:01:04 Big doping suspension- Titus Ekiru gets 10 year ban
01:08:30 Des Linden throws shade at 2:20 marathoners?
01:14:48 Guest- Stephen Lane author ofLong Run to Glory: The Story of the Greatest Marathon in Olympic History and the Women Who Made It Happenand meet director for the Adrian Martinez Classic.
Contact us: Email podcast@letsrun.com or call/text 1-844-LETSRUN podcast voicemail/text line.
Want a 2nd podcast every week? And savings on running shoes? Join our Supporters Club today and get all the LetsRun.com content, a second podcast every week, savings on running shoes, and a lot more. Cancel at anytime. https://www.letsrun.com/subscribe
Check out the LetsRun.com store. https://shop.letsrun.com/ We've got the softest running shirts in the business.
Thanks for listening. Please rate us on itunes and spread the word with a friend. There is a reason we're the #1 podcast dedicated to Olympic level running.