Craziness at NYC Marathon, Olympic Marathon Trials to Orlando, Big Names on the Move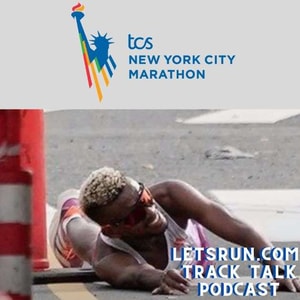 6 months ago
We break down the 2022 TCS New York City Marathon where Sharon Lokedi got the huge upset win, Daniel Do Nascimento went for broke and took a nap on the side of the road, as Evans Chebet got the win.
(If you're thinking of joining the Supporters Club, now is the time to do it as we have some Supporters Club only audio discussing Galen Rupp in today's podcast.https://www.letsrun.com/subscribe?from=public (Supporters Club members get a 2nd podcast every week, exclusive content and savings on running shoes). Thanks to everyone who signed up last week.)
We give you the inside scoop from New York, grade the Americans, and have praise and a cool story on Abidhamid Nur.
Then we talk about the 2024 US Olympic Marathon Trials being awarded to Orlando.
Then we have the crazy story of Brendan Hebert being a bandit at the Texas high school state meet and talk of Athing Mu going to LA and Cole Hocker and Ben Thomas joining the Oregon Track Club, along with Matthew Centrowitz getting engaged.
Order of show (Supporters Club members get full time stamps): Sharon Lokedi with huge upset win in NY
What's next for Lokedi?
Evans Chebet wins crazy men's race
The Americans in New York
Supporters Club only audio on Galen Rupp
Grading the Americans
Most tracked runners in New York
Abdi now with Asics / Rojo says Fauble past his prime
61:23 Olympic Marathon Trials to Orlando
Could the US not have 3 people with the standard?
Cool story of Abihamid Nur + Jenny Simpson update
Union Athletics Club update
85:29 Ex UT runner bandits Texas high school state meet
Oregon Track Club gets Cole Hocker, Ben Thomas, and Reed Brown
Athing Mu joining Bobby Kersee in LA
Matthew Centrowitz engaged
Wejo loses bet with Jon
Contact us: Email podcast@letsrun.com or call/text 1-844-LETSRUN podcast voicemail/text line.
Want a 2nd podcast every week? And savings on running shoes? Join our Supporters Club today and get all the LetsRun.com content, a second podcast every week (the Friday 15 - which is usually much more than 15 minutes), savings on running shoes, and a lot more. Cancel at anytime. https://www.letsrun.com/subscribe
Check out the LetsRun.com store. https://shop.letsrun.com/ We've got the softest running shirts in the business.
Thanks for listening. Please rate us on itunes and spread the word with a friend. There is a reason we're the #1 podcast dedicated to Olympic level running.
Support LetsRun.com's Track Talk by contributing to their tip jar: https://tips.pinecast.com/jar/letsrun
Send us your feedback online: https://pinecast.com/feedback/letsrun/ff4cdbfa-1d44-40ca-b7c7-1d4eeb72ed43
This podcast is powered by Pinecast.