Olympic Marathon Trials Mania: Galen Rupp Delivers, Aliphine Tuliamuk Leads Upset Charge, Molly Seidel, Abdi, Riley, Kipyego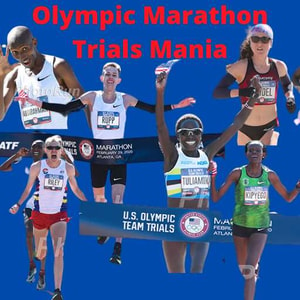 1 year ago
Everything you need to know about the 2020 Olympic Marathon Trials in Atlanta
The fabulous 2020 Olympic Marathon Trials are in the books (full coverage here).
Galen Rupp delivered once again, Aliphine Tuliamuk ended HOKA ONE ONE Marathon Month on LetsRun.com in the grandest way possible by pulling the huge upset, as Molly Seidel delivered in her debut, Jake Riley made his return more than complete, so did Sally Kipyego, and 43 year-old Abdi Abdirahman became the 1st 5 time male track and field Olympian in the US.
We break it all down, talk shoes, and the party scene in Atlanta. Plus Karissa Schweizer's stunning American record upset over Shelby Houlihan and yes of course Mary Cain and the crazy results from the Tokyo Marathon: the shoes have totally changed the game in the marathon.
Podcast is sponsored by HOKA ONE ONE. 17 HOKA Athletes ran the Trials (and we shared all their cool stories here), and yes Aliphine Tuliamuk, who was on last week's podcast, won them.
100% of the tips of this episode go to LRC's Jonathan Gault: 1x or monthly tips accepted: https://tips.pinecast.com/jar/letsrun
Show notes:
Beginning: Rupp delivers, Aliphine Tuliamuk breaks the LRC jinx, battle for 3rd on men's side, Molly Seidel, Abdi, making sense of it all
22:40 Shoe talk
37:43 More non-shoe Trials talk: Mike Smith's coaching tree, African born Americans
46:44 Rupp's human side
53:37 Was Alberto at the Trials?
56:40 Who was the biggest loser at the Trials? Scott Fauble? Des Linden? Jordan Hasay?
67:53 Party scene in Atlanta: Bob Kennedy sighting / Brian Shrader
77:04 Biggest women's surprise?
79:19 2020 Tokyo Marathon: The shoes have totally changed the game: 28th place 2:09:50. 2:17 a great women's time?!
87:07 Fast times at BU / Karissa Schweizer American record at 3,000m
Support LetsRun.com's Track Talk by contributing to their Tip Jar: https://tips.pinecast.com/jar/letsrun
We'd love your feedback here in addition to you rating us on itunes or your favorite podcast app! https://pinecast.com/feedback/letsrun/f00b8b43-21cf-4338-b571-ed8fe65c673f